Aleksandar Buđevac - Momentum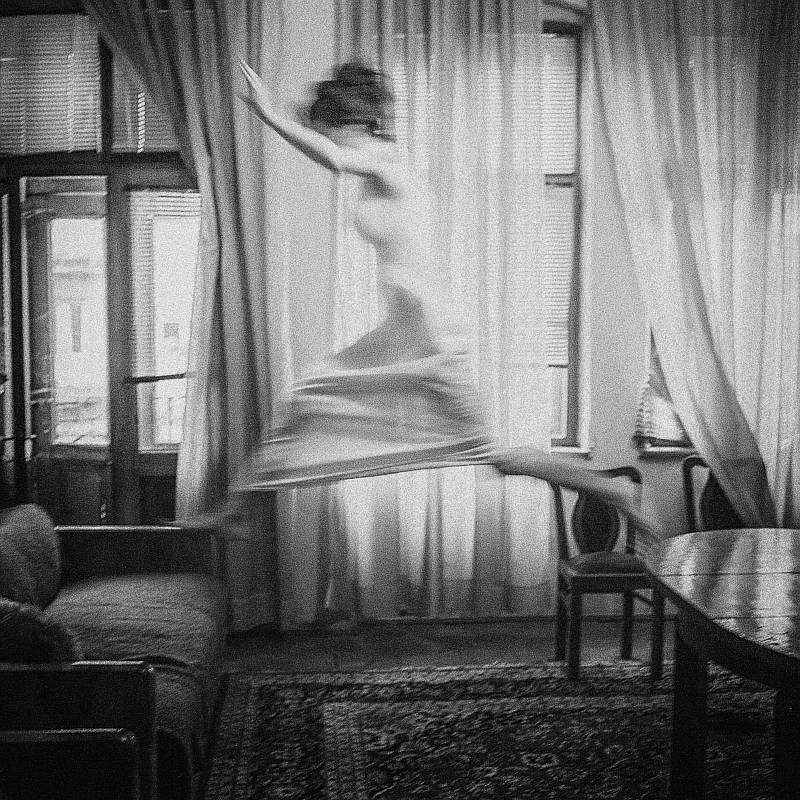 The works by Aleksandar Buđevac presented in the Momentum exhibition represent a unique moment of spiritual radiance, a moment of zest, compelling the observer to see the world through the eyes of the author. This moment separates reality from a personal perspective and is interpreted as a force coming from within us, something akin to spiritual impulsiveness that cannot be controlled. The world is seen through our eyes, in this case—through the eyes of the author. As years pass, events, both beautiful and ugly, happen, and they stay with us, serving as reminders of what life is really made of. Buđevac uses photography in a way similar to how a poet uses verses, aiming to evoke profound emotions in the observer. This exhibition showcases a collection of such important personal moments in the author's life, captured between 2014 and 2020.
About the author
Aleksandar Buđevac (born in Kragujevac, 1969) has been involved in photography for over 30 years and has been actively exhibiting his work since 2013. He has participated in 150 exhibitions in Serbia and worldwide, under the patronage of various amateur photography associations (FIAP, PSA, GPU, MOL), winning over 150 medals and awards in more than 25 countries. He has also received four awards for best exhibitor (Blue Badge FIAP). Before 2013, he exhibited in joint exhibitions in Serbia, Switzerland, and Italy. He participated in invitation-only exhibitions organised by the association Balkan Culture in Kalamata, Greece (2017, 2018, 2019), as well as the project Paths of Art (2022), which exhibited in all Balkan countries, concluding with a final exhibition in Paris in 2024. He has held several solo exhibitions across Serbia and one in Slovenia (2020). Invited by the organisers from the Acropolis in Italy, he participated in the exhibition My Myths (2015, 2016) among 30 selected authors from Europe. He holds the title of Candidate for Master of Photography of Serbia (KMF FSS) and Excellence of the amateur organisation FIAP, as well as the title of Master of Light (MOL) artist, also from the amateur organisation in Canada. Currently, he serves as the president of the Photo Club Kragujevac
Boris Eldagsen - Pseudomnesia III — Fake Memories of Art History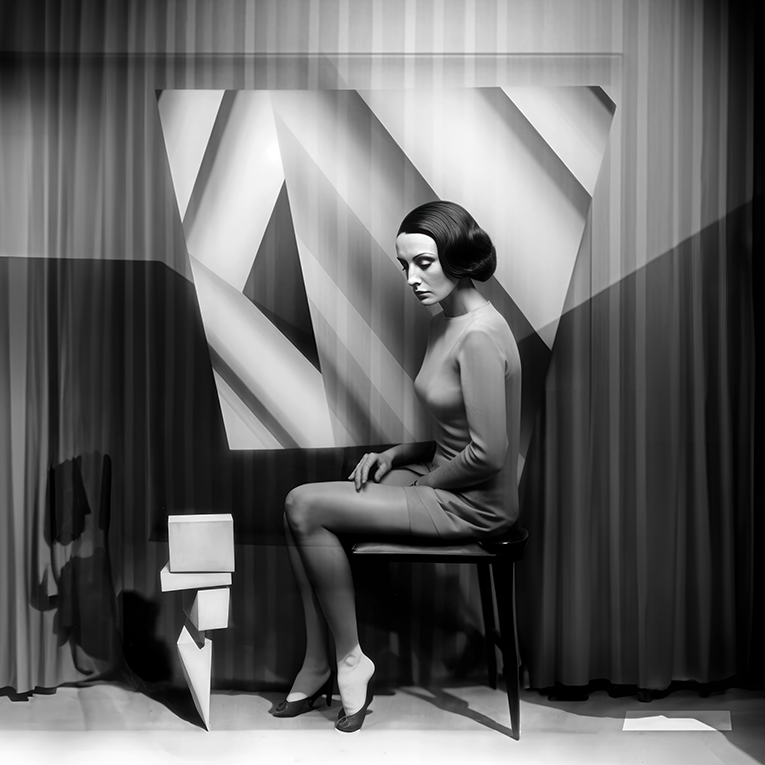 Pseudomnesia III — Fake Memories of Art History by Boris Eldagsen is an exhibition of promptography – images generated by artificial intelligence. The exhibition's title is derived from the classical Greek term pseudomnesia (Ψευδο / μνέσια), denoting false memories, such as the false recollection of events that never occurred, as opposed to simply inaccurate memories. By merging the visual language of the 1940s and post-war photography with the history of abstract art, Boris Eldagsen traces a line from the early days of generative art to today's generative artificial intelligence. These promptographies are created through a detailed work process, combining and merging textual prompts, as well as image prompts by using image repair and modification techniques.
About the author
Boris Eldagsen (1970) is a media artist based in Berlin. He studied fine arts at art academies in Mainz, Prague, and Hyderabad (India), as well as philosophy at the universities of Cologne and Mainz. He has exhibited at international institutions and festivals for over 20 years. He has been teaching at international art faculties and museums since 2004. Boris is the director of the digital department at the German Photography Academy (DFA) and one of the leading experts in artificial intelligence in the international photography scene. In April 2023, he declined the Sony World Photography Award, sparking a debate about the relationship between AI-generated images and photography. His move garnered global media attention, and his artwork Electrician is one of the most famous of the year.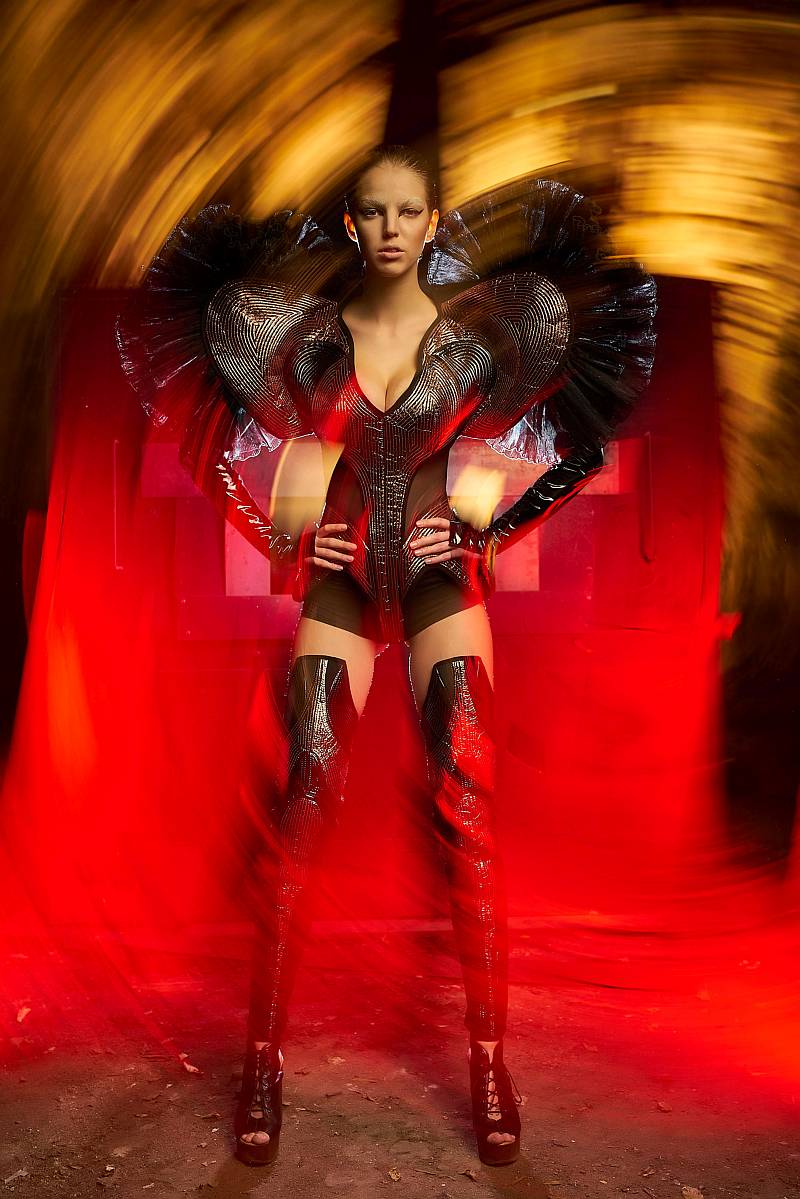 In his work, Braca Nadeždić introduces a dynamic narrative, often capturing his models in motion. Through pronounced contrasts, whether in black and white or color photography, Braca's distinctive style is rooted in dramatic effects and pronounced theatricality. When shooting fashion editorials, Nadeždić captures a striking narrative and a well-developed atmosphere. The way in which he frames the scene but also manages to capture movement gives the impression of spontaneity, as if the moment were accidentally caught, yet it is precisely staged and thoughtfully composed.
About the author
Braca Nadeždić (Belgrade, 1968) is a prominent fashion photographer of his generation. His career includes collaborations with diverse clients, including FullHouse Ogilvy, Nova Communications, Profile, SVA, Grafix, C.I.B.B, Spectra, Ogilvy & Mather (Belgrade), Gray, McCann, New Moment, Idea Plus DDBO, SMJWT, EuroRSC, and Block'n'roll. He has has solo exhibitions in Belgrade, Prague, and Podgorica, and has been part of more than 40 group exhibitions worldwide. He stands out particularly through his collaborations with rock stars and fashion designers, creating editorials and photographic illustrations for renowned magazines such as Grazia, Elle, Harper's Bazaar, Maxim, and Playboy. His artistic endeavours have also extended to the international stage, where he has contributed to publications such as Financial Times, Air France Magazine, XtraSports, Worldonline, Bild am Sontag, and L'Oréal Paris.
An exhibition featuring works by cinematography students at the Faculty of Dramatic Arts



CHRONICLES is a retrospective exhibition showcasing one year and one generation through the photographs of Anja Simić, Anastas Stojilović, Kiša Radić, Ružica Ristivojević, and Džejlan Ibrahimović. The photographes exhibited for this occasion were part of their individual projects and daily photo diaries, previously documented on shared Instagram profile @camera_chronicle. They are currently senior year students majoring in Cinematography at the Faculty of Dramatic Arts in Belgrade.
Regarding the exhibition, they stated, "Creativity and free form dominate our works, liberated from assigned themes and rules. We surrendered to the process of creation following our own instincts and intuition. This exhibition represents the diversity of visual expressions and individual artistic voices, while simultaneously showcasing the deep connection between us, the authors, and our works."
Jonas Bendiksen - The Book of Veles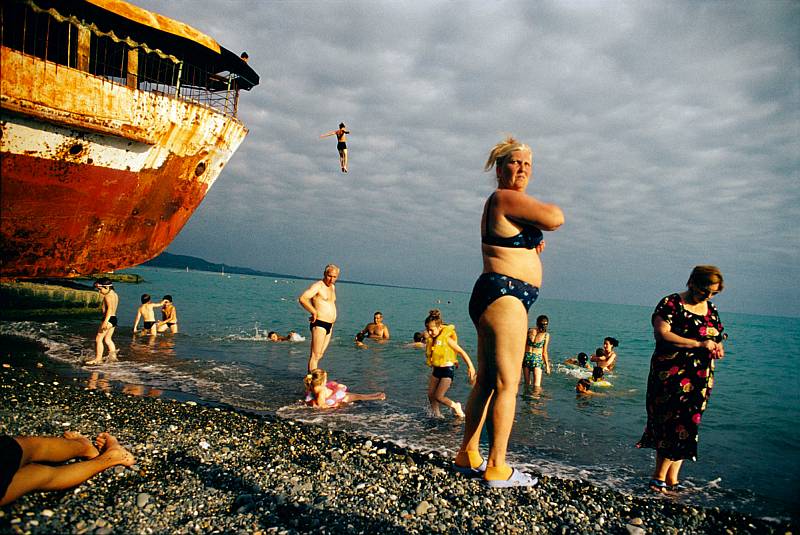 Exhibition The Book of Veles by Jonas Bendiksen consists of three sections.
The Book of Veles (2021)
The Book of Veles is a photo book that explores the Macedonian town of Veles, which served as the epicentre for producing fake news during the 2016 US elections. Local youth, skilled in technology, created hundreds of fake websites and news with sensationalistic headlines, presenting their work as American news outlets and quickly earning money through social media. Jonas Bendiksen investigated this unusual center of disinformation. He discovered that Veles is named after the pan-Slavic god-bear known for spreading chaos and lies. The result of his research is The Book of Veles, which itself went through a similar journey – initially mistaken for a documentary report until the author explained the process behind this story. The exhibition invites the audience into Bendiksen's world of synthetic photo reportage, AI-generated texts and avatars, aiming to expand the social, ethical, and philosophical dilemmas posed by such work.
The Last Testament (2017)
The Last Testament prophesies the imminent return of Jesus Christ to Earth. The promise of his return has marked human history, providing comfort and stirring unrest among millions of Christians. Jonas Bendiksen's The Last Testament follows seven people claiming to be the embodiment of the biblical Messiah. Visiting the communities and followers in seven countries, Bendiksen documented their everyday lives and rituals, exploring the boundaries of faith and expectations of the Messiah. Through the works displayed in this section, the author delves into the concept of religious anticipation, humanity's need for salvation, and the longing for a new prophet. Through personal testimonies and intimate portraits, Bendiksen creates a story that blends apocalyptic journalism and captivating artistic imagination.
Satellites – Photographs from the Fringes of the Former Soviet Union (2006)
Satellites – Photographs from the Fringes of the Former Soviet Union is Bendiksen's first photo album, chronicling a seven-year journey through the countries of the former Soviet Union. Each region now functions independently in a chaotic political environment, sometimes without diplomatic recognition from neighbouring states, let alone the international community. The photographs reveal the political and economic chaos in these forgotten regions, depicting the bleak conditions of abandoned landscapes, pervasive poverty, and political instability. Although first published almost 20 years ago, many documented conflicts continue to unfold.
About the author
 Jonas Bendiksen (1977) is a Norwegian photojournalist. He began his photographic career at the age of 19, working for local newspapers in Norway. His interest in photojournalism led him to work on various international stories, including documenting social issues, conflicts, and humanitarian crises worldwide. He has been a member of Magnum since 2008.
Jos Verhoogen - Capturing the Inauguration of Life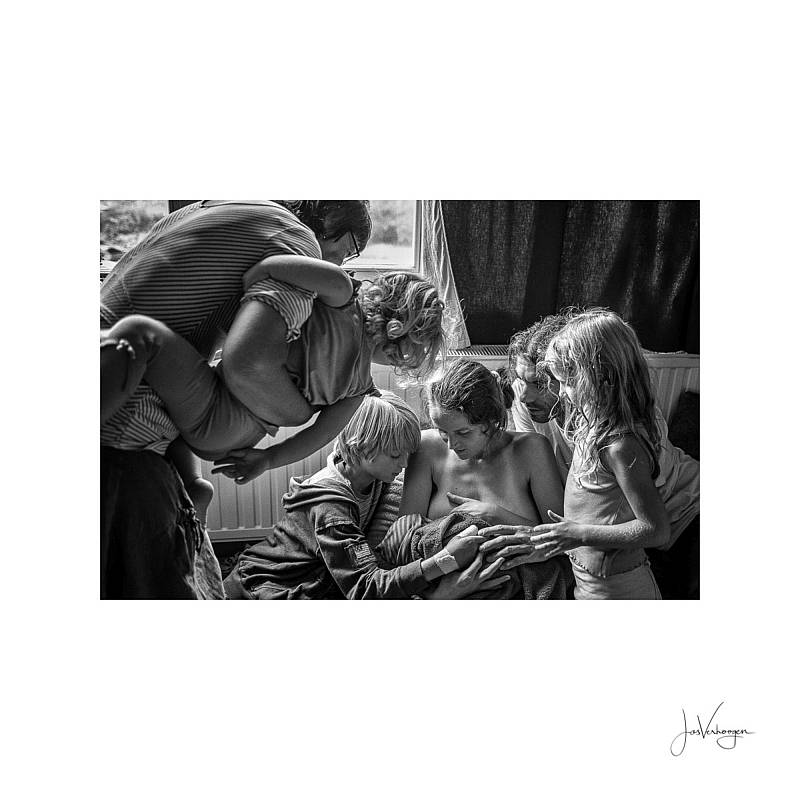 A pioneer in birth photography, through this exhibiton Jos Verhoogen showcases the most intimate moments of fragility and the dawn of life's strength. He photographs childbirth as an artistic act, thereby challenging the assumed notion of photography and establishing a new genre: birth photography.
The exhibition pays tribute to the courageous choice made by couples to allow Verhoogen to document those life moments reserved for privacy. Through his photography, the author transcends mere documentation, becoming a master of visual storytelling. Verhoogen's ability to capture anticipation, pain, joy and relief in a single photograph attests to his artistic prowess.
His work goes beyond aesthetics, delving into the core of human vulnerability. His subjects, often depicted in their most sensitive moments, reveal the strength and tenderness that intertwine during the birthing process. This exhibition invites viewers to explore the deep emotional connection that arises when vulnerability meets acceptance.
For many, the idea of birth photography was once taboo. Verhoogen shattered these barriers by bringing birth photography into the public sphere. His photographs have sparked dialogues about body positivity, women's emancipation, and the sacred beauty of birth. The exhibition explores Verhoogen's role in transforming society's perception of childbirth.
About the author
Jos Verhoogen is a Belgian photographer with over 40 years of experience. His career spans various areas of photography, including photojournalism, portraits, and specifically, pregnancy and childbirth photography. As a pioneer in birth photography, he has created exceptional images documenting this intimate moment. He has worked as a photography professor at several educational institutions, and his works have won numerous awards, including European Professional Photographer of the Year. Verhoogen's contribution to the field of birth photography stands out, as his work has transformed the perception of this area, turning it into a powerful form of visual storytelling.
Koen Suidgeest - Impressions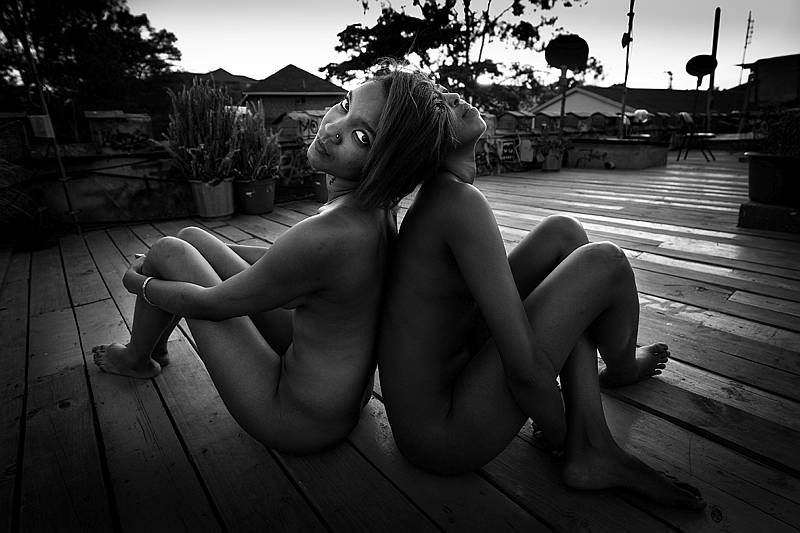 Dutch photographer Koen Suidgeest brings together human beings that identify as queer. The images originate from The Netherlands, Cuba, Honduras, Kenya and Vietnam. In this way, the author encourages reexamination of conventional understandings of love, offering ways for new conceptions. The works represent his attempt to advocate for fundamental human rights by photographing individuals whose rights are often denied. The central theme of the Impressions exhibition is love – showcasing not only the forms in which it manifests itself, but also the idea of complete surrender to this feeling, which, for Suidgeest, is the essence of everything. "In life, when you strip everything away – money, your home, work, hobbies – only love remains. And we don't decide who completes us. Love simply happens to us. That's the magic I want to preserve and defend," says Suidgeest.
About the author
Koen Suidgeest (Amsterdam, 1967) is a documentary filmmaker, photographer and teacher. His films and photos have won multiple awards and travelled all over the globe. Moreover, they have been used extensively in education, debate and activism to further the causes that Koen champions: motherhood, children's rights and LGBTQ+ rights. In January of 2020, Koen published his first photo book, Why I Cry on Airplanes. The book is a personal journey past 15 years of photography from all over the world. A year later, he was awarded the distinction of City Photographer of Leiden, an annual honorary position that enables him to develop an image-based project which progress is published weekly in a popular newspaper.
Predrag Uzelac - Still Heroes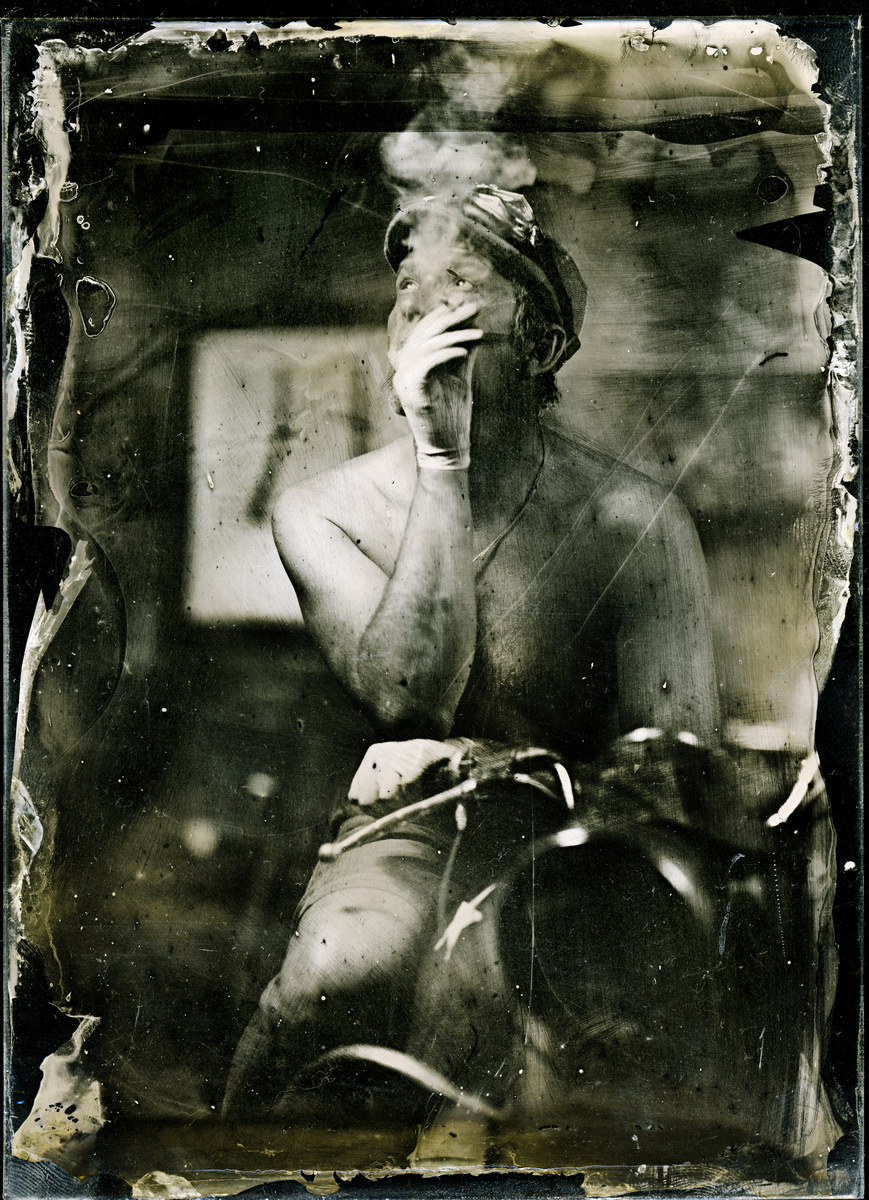 The exhibition Still Heroes presents a series of portraits inspired by seemingly ordinary people who have earned the title heroes mostly through hidden achievements, guided by their own ethics and humility, without any idea of self-glorification. They serve as a counterpoint to public opinion and the imposed, unverified social values in modern society. The photographes were captured with a wooden camera on glass plates hand-coated with silver solution, using the ancient collodion wet plate process, ensuring the enduring value they deserve. Captured through the lens of Predrag Uzelac, these ancient, genuine wet glass plates, first invented in 1851, again stand as a counterpoint to the seductive newborn of the modern era—photography induced not by light but artificial intelligence. Its growth, nurtured by modern morality, is awaited with apprehension. About the author Predrag Uzelac (born in Novi Sad, 1971) graduated from the Academy of Arts in Novi Sad, Department of Fine Arts, majoring in photography. Since 1997, he has exhibited in solo and group exhibitions in Belarus, Yugoslavia, Mexico, France, Hong Kong, Germany, Japan, Slovakia, and Serbia. He is a member of the Art Circle and the Association of Applied Artists and Designers of Vojvodina. He has served as a juror for prestigious photography awards such as the World Biennial Exhibition of Student Photography, PDP Creative Media Conference, and Press Photo Serbia. In his artistic practice, he explores various approaches and genres, including documentary, staged, landscape, portrait photography, and other artistic expressions. He also works in the field of old noble photographic processes (wet collodion, silver print, cyanotype, classic black and white photography, and other processes). He participates in and organises numerous workshops on noble processes. He teaches at the Academy of Arts in Novi Sad and works as a professional photographer and videographer, primarily in museology, advertising, and design.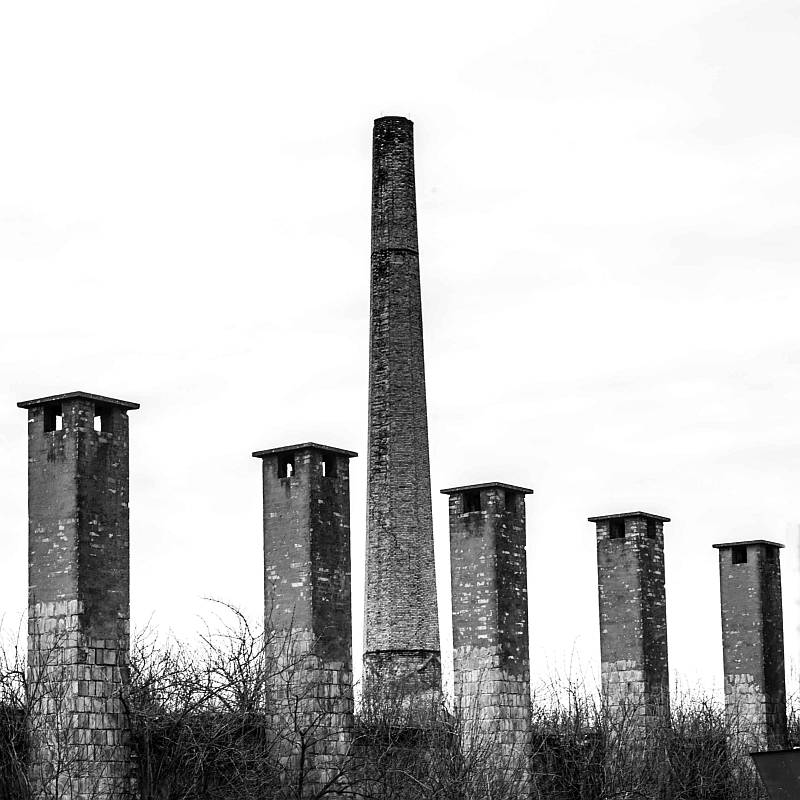 The exhibition Walk presents a unique meditation on the idea of walking as an opportunity for contemplating about life. Describing the process of creating these works, Sabolč Dudaš writes, "I love to aimlessly wander the flatlands of Bačka. Even as a child, I felt its beauty, although its excessive calmness sometimes saddened me. A swampy marsh, a larger hill, or a small grove represented territories to be conquered. Joy was mixed with sorrow when I came across abandoned farmsteads. I sensed what later truly happened – the mud-brick buildings slowly merged with the plowed fields, erasing any trace of the region's culture. I could only count on the brick factories, sleeping like Sleeping Beauty; they still welcomed me, although I had betrayed them by first visiting brick factories in Asia and Africa with my camera. I know the soil of Bačka well and greatly respect it for its fertility. I've dealt with it in various ways, cultivated it mechanically and manually, played in the mud as a child. When I left here, I tried to engrave it in my thoughts, knowing we wouldn't meet again for a long time. During my absence, I decided that when I returned home, I would attempt to photograph it. I came back after many years and have been coming here regularly ever since, wandering the plain. However, I couldn't capture with my camera what I saw. Then I noticed that there were many damaged crucifixes around me, something I had only seen in war zones. I realised that I needed to remove my photographic glasses. People weren't necessary, neither were stories; the sight of the native land was enough."
About the Author
Sabolč Dudaš (Bačka Topola, 1970) has been involved in photography since 1989. In 1993, he became a regular photojournalist for the weekly magazine HVG and later worked as Central European reporter for the Sipa-Press. From 2002 to 2010, he worked as a reporter for the Spectrumpictures, after which he started working as a photo producer for the European Commission, where he directed 15 short films. For two years (2014-2016), he was the head of the photo column for the Origo.hu website, and from 2019 to 2021, he worked as a collaborator for the artistic firm Atelier 3+1 in Paris. From 2021 to 2022, he was the photo editor for the weekly magazine 168 Óra. His works have been featured in numerous international publications, including Der Spiegel, Geo, Stern, Paris Match, Le Monde, The Guardian, The Times, Financial Times, The Economist, Focus, Newsweek Neo, The New York Times, Newsweek, and Time, among others. Since 1991, he has covered stories in 46 countries on three continents, including six war zones. He has held several solo exhibitions in Novi Sad and Budapest. He has won several awards from the Hungarian Press Photography, including awards for the best photojournalist in the last 35 years (1999, 2002), and in 2005, he took first place for artistic photography. In June 2010, he received the award for Quality Journalism for an interview published in HVG titled They Hit Him with a Butt and Then Put Him on a Bus. In 2020, he received a special award from the XXV Alfeld Photo Salon in Senteš.
Stefano de Luigi - Blanco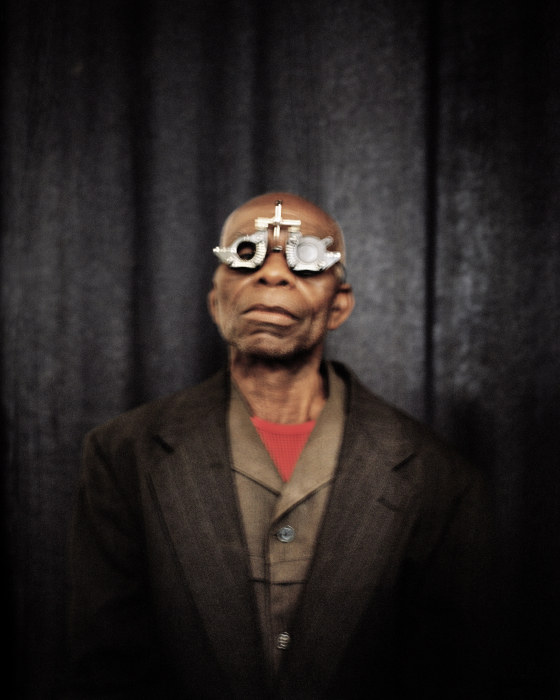 The Blanco exhibition showcases the issue of blindness in a challenging and deeply emotional manner. Photographer Stefano de Luigi explores this sensitive topic authentically, avoiding sentimentality and aesthetic exploitation of suffering. He confronts the audience with the absence of sight, an issue often avoided by most. This exhibition highlights the paradox of visual representation through those deprived of sight. The photographs are almost painful to observe, revealing what blind individuals will never be aware of—their own appearance. De Luigi refrains from using dramatic effects, contrasts, or lighting. His photographs are not staged. The fact that he abandons technical possibilities is intrinsically linked to the theme of blindness. Stefano directly focuses viewers on the problem of sightlessness and the question of human boundaries. Radical choices and strict focus further strip down the exhibition's fundamental motif.
The Blanco exhibition raises crucial questions about the nature of visual presentation in a world saturated with visual content. Stefano De Luigi explores the boundaries of the visual world through his work, offering the audience not only exceptional photographs but also reflections on the power of the visual and its absence when faced with blindness.
About the author
Stefano De Luigi (born in Cologne, 1964) is an Italian photographer, who lived in Paris from 1989 to 1996, working as a photographer for the Louvre. To date, he has published six books: Pornoland (Thames & Hudson, 2004), Blanco (Trolley, 2010), iDyssey (Edition Bessard, 2017), Babel with artist Michela Battaglia (Postcart Edition, 2018), Pornoland Redux (self-published, 2021), and Il Bel Paese (L'Artiere Edizioni, 2023). He has received numerous awards, including four World Press Photo Awards (1998, 2007, 2010, 2011), the Eugene Smith Fellowship Grant (2008), Getty Grant for journalism photography, Days Japan (2010), and the Syngenta Award (2015). He is a collaborator of various international publications such as The New Yorker, Geo, Paris Match, Sterna, and Internationale.
Photo Association of Serbia - On the Trail of Light



The exhibition On the Trail of Light organized by the Photo Association of Serbia, was conceived with the idea of discovering new trends in Serbian author photography in works by authors working under the auspices of the Photo Association of Serbia and international associations (FIAP and PSA). The exhibited works also aim to raise questions about thematic tendencies within both the local and global context of author photography. Respecting traditional genre categories among the selected exhibition photographs, scenes from daily life stand out in terms of quantity. There is also a significant number of portraits, stylistically diverse, as well as a number of street photographs, primarily focused on urban spaces rather than the city's inhabitants. The exhibition also includes photographs dedicated to nature, although landscapes, still life, and nude photography are notably absent, represented by only one photograph each. In 2022, there were 50 awarded authors whose works are included in this exhibition.